MAXI 4 Burner Table Top Gas-Cooker OC-400
The MAXI 4 Burner Table Top Gas-Cooker OC-400 is designed to be easy to use, reliable and fast. Cooking is easy and fun with this incredible appliance, it stands out from it's kind with its  amazing features. It comes with a  4-burner which enables you cook your meals with ease. Designed with stainless steel material, a quality material used in making cooking appliances.
The Table Top Gas Burner MAXI 400 can be placed on a tabletop thereby creating more space in your kitchen for other appliances to come in. Also the Maxi 400 4 burner is portable in size hereby allowing it to be easy to carry along during camp trips.  The unique finishing on this  gas cooker helps protect your cooker against rust and extend its functional life.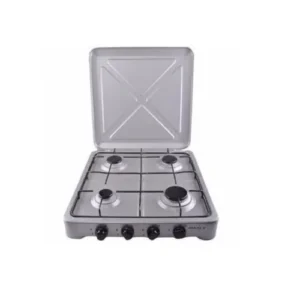 Quick Overview:
4 Burners
Colors: White, black, grey
Product Type: Gas Stove
Stainless Steel
Table Top
Rust Resistant Teflon Finishing
Metal LID Top Cover
Fast & Reliable
Gas-saving Technology
Strong, durable pot support
The pot support on this 4 burner gas cooker gives you the assurance of stability as you cook and helps you minimize spills and messes. It is easy to clean and has a strong flame for good cooking. The MAXI brand has been known for giving customers their money's worth. Therefore one can be sure to buy this product with no regrets
Finally, if you love to see real images of Maxi Gas Cookers, Check out our Instagram page. You certainly won't get it wrong.
By all means, shop for varieties of Gas & Electric Cookers at https://mitosshoppers.com. We offer quality, assurable, affordable, and discounts for the right products. We provide warranty support with Service Centre when needed. We effectively ensure fast delivery and for most locations, offer payment on delivery option.
Because we care for you we partnered with our installation partners at Afri Artisans support with installation services when requested. You will certainly be glad to give a positive review when we serve you. To clarify any area of concern, Our support lines are available.