Scanfrost Express Juicer SFJUC800W
Scanfrost Express Juicer is an easy to use juicer to make delicious, fresh juice to support daily dietary fiber and vitamins, with sleek easy to clean design to make juice-making easy, fast and simple. The juicer comes with 400W power motor that makes juicing quick and easy with 600ml large capacity juice cup and 1000ml residue cup that allows you to make more juice at once. The juicer comes with 2 speed control with pulse function allow you to adjust the power to match the hardness or softness of the fruits and vegetable. The high-quality stainless-steel blade and filter extract juice more efficiently and the filter separates juice from the pulp.
Key Features
Powerful 400 Watts motor
Juice cup – 600 ml
Residue cup – 1000 ml
High quality stainless steel blade & Filter
2 Speed control with pulse function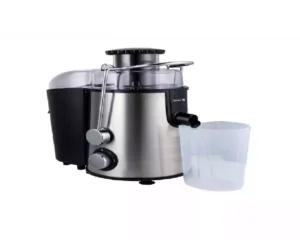 Real Images:
Finally, if you love to see real images of Scanfrost Express Juicer SFJUC800W check out our instagram page @mitosshoppersng. You certainly won't get it wrong.
By all means, shop for varieties of at We offer quality, assurable, affordable, and discounts for the right products. We provide warranty support with Bosch Service C entre when needed. We effectively ensure fast delivery and for most locations, offer payment on delivery option.
Because we care for you we partnered with our installation partners at Afri Artisans to support with installation services when requested. You will certainly be glad to give a positive review when we serve you. To clarify any area of concern, Our support lines are available.