Scanfrost 90×60 Gas Cooker SFC9500GE
The Scanfrost 90×60 Gas Cooker SFC9500GE is durable, powerful and highly efficient home appliance.  The Scanfrost Gas Cooker SFC9500GE is a great addition to your kitchen and makes your cooking easy.  The size of the Scanfrost Gas Cooker is compact and can fit perfectly into any kitchen.
The scanfrost  gas cooker has a glass lid which beautifies the cooker. It also has a hob which allows you to regulate the cooking temperature. The  SFC9500GE burner is a reliable and affordable option for cooking meals. Furthermore, it has an inbuilt oven which allows you bake conveniently. The cooker is wide enough to accommodate four pots at once thus making it suitable to cook for the whole family.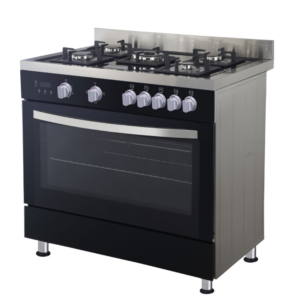 Quick Overview
90 × 60 CMS
5 Gas Burners
Splash Board
Cast Iron Pan Support
Digital Timer
Auto ignition gas cooker
Gas Oven + Grill
Rotisserie
Classic Home Look
Double Glass Insulated Door
Oven Lamp
Oven Tray
With 2 Years PAN Nigeria Warranty
Buy Scanfrost Cooker SFC9500GE at https://mitosshoppers.com/ where we offer quality, assurable, affordable and discounted Generators and other home appliances. Please leave a review and hope to hear from you soon. Thanks.