Scanfrost 9.2kg Twin Tub Washer – SFWMTTC
Scanfrost 9.2kg Twin Tub Washer – SFWMTTC gives you the complete twin tub washing experience. The wash tub comprises of a base agitator allowing you to wash as little or as much as you wish.
Scanfrost Semi-Automatic Washing Machine will help you take care of your laundry in the most efficient manner. With a capacity, you will be able to do a lot of washing at a time. The machine is designed with separate wash and spin tubs. When you wash your clothes, the spin tub will allow you spin it to a point where the clothes are almost dry. After spinning, it takes just a little time for your clothes to get dry. This will save you a lot of time, especially if you are a working mother, bachelor or even a housewife.
This product washing machine has a timer that allows you to keep track of the washing as a chore, also the control buttons are easy to operate and helps to set the machine at a wash rate depending on the material of the cloth that is being washed.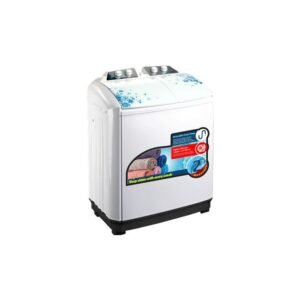 Real Images:
Finally, if you love to see real images of Scanfrost Air Conditioner Check out our Mitosshoppers Instagram page. You certainly won't get it wrong.
By all means, shop for varieties of Scanfrost Air Conditioner at https://mitosshoppers.com. We offer quality, assurable, affordable, and discounts for the right products. We provide warranty support with Service Centre when needed. We effectively ensure fast delivery and for most locations, offer payment on delivery option.
Because we care for you we partnered with our installation partners at Afri Artisans to support with installation services when requested. You will certainly be glad to give a positive review when we serve you. To clarify any area of concern, Our support lines are available.
Key Features
9.2KG Twin tub with plastic body
Toughened glass connected cover
Bubble maker function available
Hi water level: 74L
Low Water level: 40 L
Rated wash power: 490 W
Rated Spin power: 200 W
Superior built-in reversible drain pump for removing washed water into wash basin
Highly efficient copper coil motor
Deep Clean for laundry with every wash
With 2 Years PAN Nigeria Warranty