Polystar 145L Fridge PV-DD228HDL
Polystar 145L Fridge PV-DD228HDL is a double-door refrigerator that is an integral part of your family's day-to-day life. We rely on refrigerators as you move through the workweek or weekend; efficient or large-capacity refrigerators such as double door, or side-by-side make all the difference in creating a smooth-running modern home. Whether you are replacing, upgrading, or simply adding a new refrigerator.
Polystar refrigerators come in a nice variety of different sizes and designs and are a perfect blend of aesthetics and performance. The Fridge fully equipped with full range temperature control technology and a large capacity is sure to provide just what you need for perfect food preservation. Also sporting an inside super frozen evaporator for rapid and uniform cooling as well as good energy-saving technology, all this and more makes this every kitchen owner's dream.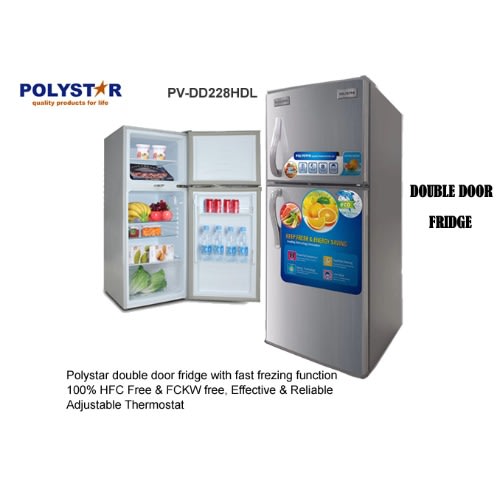 Super efficient, compact, and durable, the Polystar PV-DD228HDL offers superior freezing capabilities even long after disconnection from the power supply. Featuring a 145-liter volume capacity, it features a high-efficiency compressor and an easy-to-clean interior. Not taking up much space in your home, this is the standard for convenience.
Mechanical temperature control
Adjustable thermostat
Manual defrost
100% HFC & FCKW free
Adjustable feet
Reversible door: Left or right swing
Removable double door seal
Energy class A
Silver color
High-density foaming
Capacity: 145L
Buy Refrigerators at https://mitosshoppers.com/ where we offer quality,assurable, affordable and discounted home appliances. Please leave a review and hope to hear from you soon. Thanks