LG 42L Neo Chef Microwave MH8265DIS
LG 42L Neo Chef Microwave MH8265DIS is perfect for you. This microwave oven has a capacity of 42 Liter, offering an excellent option to cook that large meal in a single setting. With its Auto Menu function.
you can just sit back and let this incredible device do the work as it automatically cooks your food, according to its nature, accurately and evenly, so it's just the way you want it. The grill and defrost function offer you quick and efficient cooking. LG 42L Neo Chef Microwave MH8265DIS reviews declare it an amazing kitchen asset.
The inverter technology allows for more controlled power output, resulting in more even cooking and defrosting, preventing overcooking or unevenly heated dishes.
The smart inverter function can be used to adjust the power level for various cooking tasks, providing flexibility and customization in cooking settings.
The product interior is designed with an Easy Clean coating, making it easy to clean spills and food splatters with a simple wipe.
Key Features
Smart Inverter
Even Heating
Fast Cooking
Healthy Cooking
Stable Turntable with 6 Supports
Heating @ Even Temperature
High Rack for Grilling
Easy Clean™ [99.99% Anti-Bacterial]
Black Mirror Finish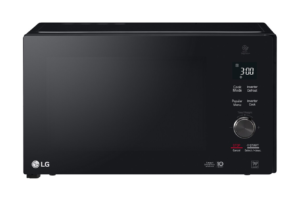 Finally, if you love to see real images of LG 42L Neo Chef Microwave MH8265DIS Front Load Washer & Dryer check out our instagram page @mitosshoppersng. You certainly won't get it wrong.
By all means, shop for varieties of at https://mitosshoppers.com. We offer quality, assurable, affordable, and discounts for the right products. We provide warranty support with Bosch Service C entre when needed. We effectively ensure fast delivery and for most locations, offer payment on delivery option.
Because we care for you we partnered with our installation partners at Afri Artisans to support with installation services when requested. You will certainly be glad to give a positive review when we serve you. To clarify any area of concern, Our support lines are available.