Daikin 1.5HP Split Air Conditioner FTXR42E/RXR42E
Effective ventilation air refreshes the room within 2 hours. With the technology of Daikin Flash Streamer achieve efficient air purification and improves the quality of indoor air. The night mode saves power by preventing excessive heating or cooling during the night. For rapid heating or cooling can choose powerful function: after closing the program strong, the unit returns to the preset mode.
The function ambience ensures operation without blocking streams directly to hot or cold air into the body Whisper quiet operation: sound pressure level up to 23 dBA
Silent operation indoor unit: The button "silent" (Silent Mode) on the remote control lowers the operation sound level of the indoor unit by 3dBA. Photocatalytic air filter titanium apatite which removes microscopic particles in the air, effectively breaks down odors and helps to prevent the spread of bacteria and viruses, ensuring a steady supply of clean air.
The 3D air flow combines vertical and horizontal auto swing so releasing a stream of warm or cool air right to the corners of even large spaces. 
Other features: humidification function, operation pleasant fresh air, comfortable sleep mode, program elimination fungi
Outdoor units are fitted with a swing compressor, renowned for its low noise and high energy efficiency.
Key Features
1.5Hp Split Ac
Inverter Model
R410 Gas
Copper Condenser
4 Way Swing
Hot And Cold Features
Timer Quite Operation
Online operation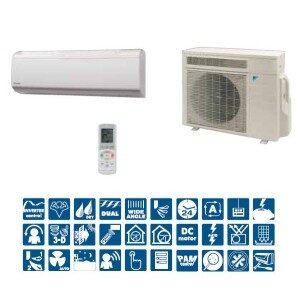 Real Images:
Finally, if you love to see real images of Daikin 1.5HP Split Air Conditioner check out our instagram page @mitosshoppersng. You certainly won't get it wrong.
By all means, shop for varieties of at https://mitosshoppers.com. We offer quality, assurable, affordable, and discounts for the right products. We provide warranty support with Bosch Service Centre when needed. We effectively ensure fast delivery and for most locations, offer payment on delivery option.
Because we care for you we partnered with our installation partners at Afri Artisans to support with installation services when requested. You will certainly be glad to give a positive review when we serve you. To clarify any area of concern, Our support lines are available.