Bosch 90cm Ceramic Gas Hob PRS926B70E/PRS9A6D70
Bosch 90cm Induction Gas  Hob PRS926B70E/PRS9A6D70 makes you to achieve perfect cooking results.It have lots of benefits, and one of them is easy cleaning. This appliance is intended for private domestic use and the household environment only.
The new gas cooktops with Flame Select are equipped with nine precisely defined power levels which let you adjust the required heat easily and reliably. For simply perfect cooking results. Bosch 90cm Induction Hob PRS926B70E/PRS9A6D70 flames are strong and gentle at the same time. Because all flame strengths from 6 kW down to 0.3 kW. Strong flames.
Key Features
Electronic display
sword knobs
Ignition via control knob
Cast iron pan supports
5 PC
dual wok burner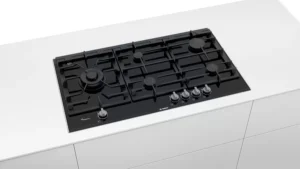 Real Images:
Finally, if you love to see real images of Bosch Ceramic Gas Hob check out our instagram page @mitosshoppersng. You certainly won't get it wrong.
By all means, shop for varieties of at https://mitosshoppers.com. We offer quality, assurable, affordable, and discounts for the right products. We provide warranty support with Bosch Service Centre when needed. We effectively ensure fast delivery and for most locations, offer payment on delivery option.
Because we care for you we partnered with our installation partners at Afri Artisans to support with installation services when requested. You will certainly be glad to give a positive review when we serve you. To clarify any area of concern, Our support lines are available.