Bosch 30cm Grill PKU375CA1E
Bosch 30cm Grill PKU375CA1E This appliance is intended for private domestic use and the household environment only.The appliance must only be used for the preparation of food and beverages. The cooking process must be supervised. A short cooking process must be supervised without interruption. Only use the appliance enclosed spaces.
This appliance is not intended for operation with an external clock timer or a remote control.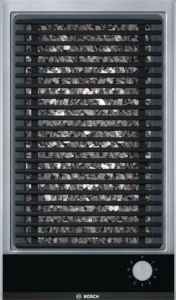 Real Images:
Finally, if you love to see real images of Bosch 30cm Grill check out our instagram page @mitosshoppersng. You certainly won't get it wrong.
By all means, shop for varieties of at https://mitosshoppers.com. We offer quality, assurable, affordable, and discounts for the right products. We provide warranty support with Bosch Service Centre when needed. We effectively ensure fast delivery and for most locations, offer payment on delivery option.
Because we care for you we partnered with our installation partners at Afri Artisans to support with installation services when requested. You will certainly be glad to give a positive review when we serve you. To clarify any area of concern, Our support lines are available.
Key Features
Stainless steel grill to be used with water or lava stones
1 big grill zone on cast pan support
9 power levels
Drain valve
Removable black glass lid
Can be combined with 60, 70, 80 and 90 cm hobs
Min. worktop thickness: 30 mm
Mains cable 1 m (without plug)