SCANFROST 500L CHEST FREEZER – SFL500 PRE
SCANFROST 500L CHEST FREEZER – SFL500 PRE is a functional deep freezer with amazing features. Scanfrost products are known to be extremely reliable. the Scanfrost deep freezer SFL500PRE is designed to help you maintain an economical home, has extreme cooling facilities thereby keeping your food stuff crisp and dry, ever ready.
Scanfrost 500Ltrs chest freezer also comes with a lock with key function, cooling compressors are installed.
it also has a four way cooling design. This freezer remains frozen for up to 100 hours after power outage. The Inox design is used to beautify the freezer and compliment the décor of its environment.
However, Scanfrost 500Ltrs deep freezer SFL500PRE has extreme cooling facilities. It is a very portable yet efficient freezer.
It is the appropriate assistance to store smaller food stuff which will minimize the cost of buying them constantly.
Also, Scanfrost chest freezer SFL500PRE  is designed in such a way that it has enough space to occupy so many food items. this freezer has just the right amount of legroom.
Morealso, Scanfrost 500Ltrs Chest Freezer also comes with a lock with key function, cooling compressors are installed. it also has a four way cooling design. This freezer remains frozen for up to 120 hours after power outage.
Quick Overview: Scanfrost 500Ltrs Deep Freezer SFL500PRE
Premium Design
500 Litres capacity
Control Lock & key with handle
Low voltage operation ability
Anti-Rust Exterior
Chest Freezer
Freestanding
Energy Efficiency
Quick freeze function
Adjustable temperature
Eco friendly
Extreme cooling capacity
120 Hours cooling retention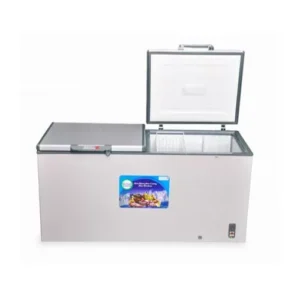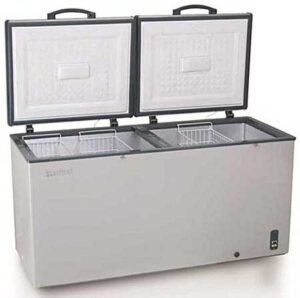 ABOUT US
Shop and buy the quality home and outdoor appliances from Mitosshoppers Online Store at the best and cheapest prices in Nigeria and get it in Lagos within 24 hours.
However, visit our Instagram page to check out all varieties of our post and videos. We offer quality, measurable, affordable, and discounts for the right products. We  provide warranty support with Service Center and also in terms of installations of any appliances. We effectively ensure fast delivery and for most locations, offer payment on delivery option.
In addition, Our customers can count on us because we partnered with our installation partners at Afri Artisans to support with installation services when requested. You will certainly be glad to give a positive review when we serve you. To clarify any area of concern, Our support lines are available.
DELIVERY/SHIPPING: 
Delivery takes 24hrs for Lagos Customers.
Orders outside Lagos – Abuja, Ilorin, Ibadan, PH, ABA, Kano, Kaduna, Jos, etc. – usually takes 2-5days.
Return Policy:
We currently have a returns policy of 7 days from the date of delivery to return the product(s). If you are dissatisfied with any product you receive, you can request for a refund as long as it meets our conditions.
However please note that returns or replacements may not be available in the following cases:
Damages due to misuse of product
Any consumable item which has been used or installed
Products with tampered or missing serial / UPC numbers
Any damage / defect which are not covered under the manufacturer's warranty.
Any product that is returned without all original packaging and accessories, including the box, manufacturer's packaging if any, and all other items originally included with the product(s) delivered;
Items with No Returns policy.