SAMSUNG 220 LITRES Refrigerator RT20
Digital Inverter Compressor and 10 Year Warranty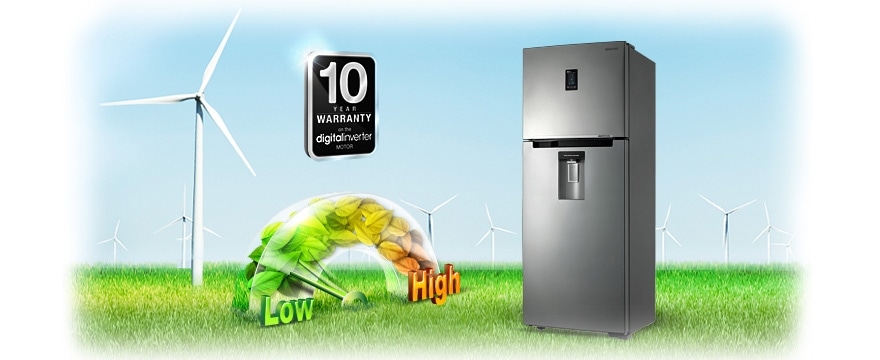 Unlike conventional compressors, which have just two patterns of start and stop, Samsung's Digital Inverter Compressor makes 5 different moving cycle based on humidity levels and usage patterns. This helps maintain a more consistent temperature, reduces wear and tear on the compressor for greater durability, and keeps noise to a minimum. You'll also enjoy the peace of mind that comes with lower electric bills and a 10-year warranty.
Big Guard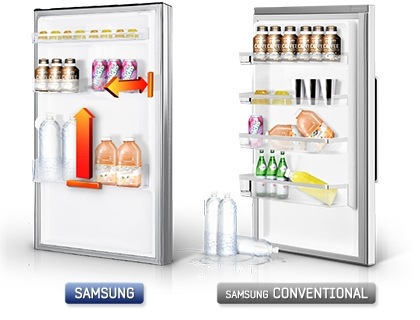 Convenient for the thirsty household, the Big Guard is deeper than shelves found in conventional refrigerators. Now you can store big containers of milk and juice in the door, along with two rows of beverage cans and bottles. Throwing a party? Use the Big Guard to chill tall bottles of water, soda, and other liquid refreshments.
MoistFresh Zone
Fresh vegetables and fruit are good for you, but what's good for vegetables and fruit? Samsung's MoistFresh Zone. The smartly designed drawer provides an ideal environment for apples and zucchini alike, so they stay fresher longer. A tight seal prevents moisture from escaping when humidity levels are low, and a vent releases excess moisture when humidity levels are too high. Together with the conduction cooling system, these elements maintain the optimal humidity levels to preserve your produce.

Deodorizing Filter
Deodorizing Filter is made of Activated Carbon, eliminates bad smell, keeping the air fresh and food flavor longer.
Big Box
Full Open Box makes it easier to organize and remove items—even bulky foods, like a 3-gallon tub of ice cream. The box extends out all the way for optimum use of space and, thanks to the drawer's design, you can open the Full Open Box even if the refrigerator door is only open 90 degrees.
Buy SAMSUNG 220 LITRES Refrigerator RT20 with BESPOKE RR7000M at
https://mitosshoppers.com/
where we offer quality,assurable,affordable and discounted Refrigerator and other home appliances. Please leave a review and hope to hear from you soon. Thanks