Hisense 5KG Washing Machine Twin-Tub WM503WSPA
Hisense 5KG Washing Machine Twin-Tub WM503WSPA takes care of basic laundry needs. GEt laundry done with pleasure.  You enjoy a great deal of features when you get this improved wash and spin washing machine.
Features:
5kg Capacity
Air Dry Function
Lint Filter
Adjustable Legs and Strong Base
Classic Design
Drain Pump
Twin Tub
White
Model; Hisense 5KG Washing Machine Twin Tube WM503WSPA
The washing machine is ideal for students, singles and small size families. It is very efficient for everyday wash and spin. Energy saving helps save you cost at the long run. Its twin tube top loader gives you the advantage to load you clothes directly from the top and allows you wash on one side while you spin on the other side.
Space and Function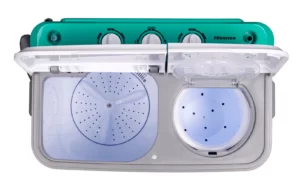 Its inner tub is spacious which allows for mini sized blankets and duvets to fit in. Hisense 5KG Top Loader Washing Machine WM503WSPA has a timer that allows you to keep track of the clothes while washing.
The Air Dry function prevents the drum from dampening to ensure laundry remains clean & dry. You certainly need the best washer. The removable feet makes it easier to install or move the machine, and is height adjustable. Specially designed to remove unwanted lint from your laundry.
Hisense 5kg washing machine top loader is considered safe to use anywhere. Kitchen, Bath, these products are sure to serve its user with a defined purpose. At Mitos Shoppers we compliment your shopping by offering best prices, fast delivery and after sale support through installation and warranty services where needed
Buy Hisense 5KG Washing Machine Twin-Tub  at https://mitosshoppers.com/ where we offer quality, assurable, affordable and discounted air conditioners and other home appliances.
Because we care for you we partnered with our installation partners at Afri Artisans support with installation services when requested. You will certainly be glad to give a positive review when we serve you. To clarify any area of concern, Our support lines are available.
Conclusively, kindly follow us on our Instagram page to view more of our product brands and know more about the quality services we render to all our dear customers.
Please leave a review and hope to hear from you soon. Thanks