Sumec Firman 6kva/6.7KVA Generator ECO8990ES
The Sumec Firman 6kva/6.7KVA Generator ECO8990ES is an efficient, standard, durable and reliable generator which requires less frequent servicing to keep it running for a long time.
It is rated at 6kva and a recommended maximum load of 6.7kva. So this 6kva generator would be able to power your fans, bulbs, 1 TV, 1 Home theatre, Fridge or Freezer, 2HP or 1.5HP or 1HP Inverter Air Conditioner. It is important to load generators cautiously to prevent overload.
Some notable features of this product are as follows:
AC Frequency: 50HZ
Rated AC Voltage: 220v
Rated AC current: 27.27A
Surge AC Output: 7200W
Rated AC Output: 6000W
Protection Type: IP23
Alternator: Brush, Self exciting, Synchronous, 2-pole
Voltage Regulation: AVR
Insulation Level: B
Power Factor COS: 1
Phase: Single Phase
Engine Type: 4- stroke single Cylinder, Air-cooled OHV
Bore x Stroke: 90 x 69mm
Displacement: 439cc
Maximum Power Output(HP/KW): 15HP
Ignition System: Transistorized Magneto
Starting System: Recoil/ Electric
Fuel: Unleaded Gasoline
Fuel Tank Capacity: 28.5L
Oil Capacity: 1.1L
Run Time(appr.) on One Tankful @75% Load 9h
Run Time(appr.) on One Tankful@50% Load: 10h
Sound Power Level LWA: 97d(B)A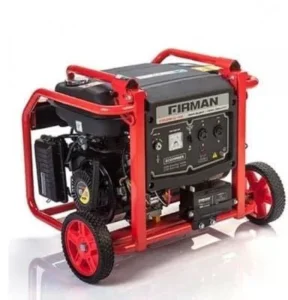 ABOUT US
Buy Sumec Firman 6.7KVA Generator ECO8990ES at https://mitosshoppers.com/ where we offer quality, assurable, affordable and discounted Generators and other home appliances. Please leave a review and hope to hear from you soon.
Visit our Website, browse and explore our Generators brands, select your favorite generator, and place your order. our delivery system is simply the best. Fast, reliable, and convenient. We offer quality, assurable, affordable, and discounts for the right products. We  provide warranty support with Service Center when needed. We effectively ensure fast delivery and for most locations, offer payment on delivery option.
Because we care for you we partnered with our installation partners at Afri Artisans supports with installation services when requested. You will certainly be glad to give a positive review when we serve you. To clarify any area of concern, Our support Lines are available.
Conclusively, You can always reach out to us by following our Facebook page and Instagram page to view more of our product brands.