Firman 1.6HP Inverter AC – FDI-14GSC
Firman 1.6HP Inverter AC – FDI-14GSC is a low voltage inverter AC that comes with an installation kit. Suitable for large rooms or offices because of its capacity. It also has vanes that ensure quick and effective cooling, auto swing function that distributes clean and fresh air to all parts of your room, office, or restaurant.
This Firman 1.6HP Inverter AC – FDI-14GSC does not only cool your home, it purifies the air so that you can stay healthy. It performs all these functions while still saving energy.
 Technical Specifications:
Power: Single-Phase A.C
Rated Voltage: 220-240V
Rated Frequency: 50Hz
Energy Saving: Over 70%
Cooling Capacity: BTU/h 13650(2250-1300)
Power Input: Watts 1291(250-1800)
Rated Current: Amp 5.9(1.1-9.6)
Noise(Indoor/Outdoor): dB(A) 42/52
Weight: 8.5kg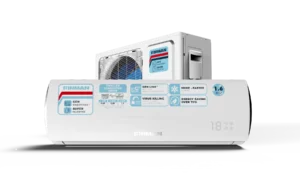 Real Images
If you love to see real images of Firman 1.6HP Inverter AC – FDI-14GSC? kindly reach out to us on our Instagram page You certainly wont get it wrong.
By all means, shop for varieties of Firman Air Conditioners on our Websites. We offer quality, assurable, affordable, and discount for the right products. We provide warranty support with Service Centre when needed. We effectively ensure fast delivery and for most locations, offer payment on delivery option.
Because we care for you we partnered with our installation partners at Afri Artisans supports with installation services when requested. You will certainly be glad to give a positive review when we serve you. To clarify any area of concern, Our support Lines are available.
Conclusively, kindly follow us on our Facebook page to view more of our product brands and know the kind of services we render to our dear customers.