Bosch 505ltr Freestanding Fridge & Freezer KDN56VI20M
Bosch 505ltr Freestanding Fridge & Freezer KDN56VI20M Super Freezing freezes food faster and protects existing frozen food from defrosting when adding new food to the freezer. Appliances with an automatic freezing function return to normal operation once the required temperature is reached, preventing energy waste. Good for your food. Good for your energy usage.
VitaFresh plus Box: cooler than the other cooling areas – keeps meat and fish fresh up to 2 times longer.
NoFrost: never defrost again, thanks to perfect protection from ice formation – that saves time and effort.
VitaFresh Box: fruits and vegetables stay fresh longer, thanks to humidity control.
IceTwister: easy to remove and fill – for lots of ice cubes.
EasyAccess Shelf: retractable glass shelf for convenient loading and unloading and a perfect view.
Key Features
LED lighting
Air fresh filter
3 safety glass shelves  in fridge compartment (1 adjustable)
1 Vita fresh drawer with humidity control
1 Vita fresh drawer for chiller compartment
Twist ice tray
2 Cool packs with mounting bracket provided
Recessed handle
Brand: Bosch
Material: Stainless Steel
Capacity: 505 Liter
Style: Freezer on Top
Shipping Weight: 180 Kg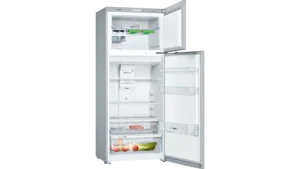 Real Images:
Finally, if you love to see real images of Bosch 505ltr Fridge & Freezer check out our instagram page @mitosshoppersng. You certainly won't get it wrong.
By all means, shop for varieties of at https://mitosshoppers.com. We offer quality, assurable, affordable, and discounts for the right products. We provide warranty support with Bosch Service C entre when needed. We effectively ensure fast delivery and for most locations, offer payment on delivery option.
Because we care for you we partnered with our installation partners at Afri Artisans to support with installation services when requested. You will certainly be glad to give a positive review when we serve you. To clarify any area of concern, Our support lines are available.