Scanfrost SFC9423SS 90×60 6-Burner Gas Cooker
The Scanfrost SFC9423SS 90×60 6-Burner Gas Cooker, that helps to cook food properly and on time. Designed with a timer, and to stop at the set time. The knobs are well installed that, the amount of heat that is allocated to a certain point can be controlled and monitored.
The burners on the Scanfrost Gas Burners Stainless Steel Splash Board SFC9423SS burn in a very clean fashion. This product also comes with series of gas burners that are user compliant, once the knob is on, it lights up immediately there is fire.
The grill of this scanfrost gas burner is programmable, it has beautiful lighting, the ignition has both manual and automatic functions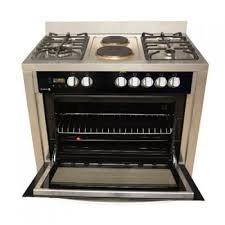 Quick overview
Model: SFC9423SS
Brand: Scanfrost
Product type: Gas cooker
90×60 CMS
5 Gas Burners
2 Electric Hotplates
Auto Ignition for Gas Oven
Classic Home Look
Stainless Steel Top

Rapid, Semi-Rapid, Triple and Auxiliary Burners

Digital display with soft touch switches for lamp, turnspit and electronics timer

Stainless Steel Finish
Double Glass Insulated Door
Oven Lamp
Buy Scanfrost gas/electric Cooker SFC9423SS  at https://mitosshoppers.com/ where we offer quality, assurable, affordable and discounted Generators and other home appliances. Please leave a review and hope to hear from you soon. Thanks.