Scanfrost 26″ Industrial Fan SFIF26D
Enjoy cool air in your space with the Scanfrost 26″ Industrial Fan SFIF26D. The high speed motor of this fan will take care of your cooling needs making it also suitable for warehouses or large areas. The blades of Scanfrost Fans are rust free, thus providing optimum value for money.
The Industrial Fan features an adjustable head, replaceable batteries and a standard 3 in plug for convenience. It will conveniently deliver cool air for hours and controls as well as battles stifling summer heat or stuffy enclosed spaces with an arsenal of effective air-cooling features.
Scanfrost Industrial Fan has three-speed settings allow for a gentle breeze, steady wind, or maximum heat-busting blast with the turn of the easy-grip rotary control, and the quiet operation won't get in the way of conversations or sleep.
The high efficient blades of the Scanfrost Industrial Standing Fan lets you cool your body temperature in an instant. It has a silent operation so you can use it anywhere whether you are in the office working or at home trying to rest.
Key Features
Brand: Scanfrost
Model: SFIF26D
20′′ industrial fan
Detail: Standing Fan
High efficiency blades
Silent and breezy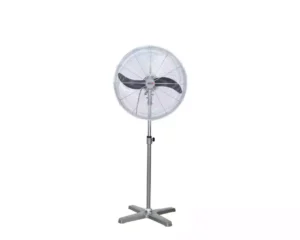 Real Images:
Finally, if you love to see real images of Scanfrost 26″ Industrial Fan SFIF26D check out our instagram page @mitosshoppersng. You certainly won't get it wrong.
By all means, shop for varieties of at We offer quality, assurable, affordable, and discounts for the right products. We provide warranty support with Bosch Service C entre when needed. We effectively ensure fast delivery and for most locations, offer payment on delivery option.
Because we care for you we partnered with our installation partners at Afri Artisans to support with installation services when requested. You will certainly be glad to give a positive review when we serve you. To clarify any area of concern, Our support lines are available.