Bosch 573ltr Fridge + Freezer KAN90VI20N/KAN90VI20G
With a Bosch 573ltr Fridge + Freezer KAN90VI20N/KAN90VI20G model, the humidity in the air is collected on the central fin evaporator rather than building up in the applicance or on the foods. This chiller, which draws the warmth out of the freezer area, automatically defrosts from time to time. The resultant condensation is taken to the outside and evaporated using the compressor warmth in a special collecting pan. This lowers humidity in the appliance, which means that almost no ice forms. So you don't need to worry about defrosting any more.
The fan-assisted Multi Airflow System causes gentle, even currents of cold air to emerge at all levels of the chilling and freezing area. Temperature fluctuations are minimised and cooling times reduced – which helps your foods retain their flavour for longer.
Key Features
Stainless Steel Easy Clean doors and grey side panels
aluminium Vertical door handle
Stainless Steel Easy Clean
Automatic defrost fridge
1 compressor
Bright interior LED fridge light
Removable magnetic door seals – easy to clean
Optical and acoustical door open warning
Freezer malfunction warning signal: optical and accoustical
4 safety glass shelves in fridge compartment of which 1 are height adjustable
Freezing capacity in 24 hours: 12 kg
Maximum freezer storage time in power failure: 4 hours
Left hinged, Right hinged door
Height adjustable front feet
2 freezer drawers
2 ice cube trays
Door trays in freezer door: 5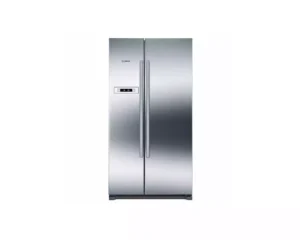 Real Images:
Finally, if you love to see real images of Bosch 573ltr Fridge + Freezer check out our instagram page @mitosshoppersng. You certainly won't get it wrong.
By all means, shop for varieties of at https://mitosshoppers.com. We offer quality, assurable, affordable, and discounts for the right products. We provide warranty support with Bosch Service C entre when needed. We effectively ensure fast delivery and for most locations, offer payment on delivery option.
Because we care for you we partnered with our installation partners at Afri Artisans to support with installation services when requested. You will certainly be glad to give a positive review when we serve you. To clarify any area of concern, Our support lines are available.