Bosch 297ltr Fridge & Freezer KGN34NL30G
Bosch 297ltr Fridge & Freezer KGN34NL30G Super Freezing freezes food faster and protects existing frozen food from defrosting when adding new food to the freezer. Appliances with an automatic freezing function return to normal operation once the required temperature is reached, preventing energy waste. Good for your food. Good for your energy usage.
This is a compact, double-door fridge with your fridge at the top and freezer at the bottom, together with a vertical bar handle, making it easy to open and close. An alert system is in place to let you know when either door are not closed properly.
Key Features
304 Liter No Frost Bottom Mount Refrigerator
A++ Energy Rating
Freezer Storage Time In Case Of Power Failure – 19 Hours
4 Star Freezing Rating
Super Freeze Fucntion
Extra Large Vegetable Box
Indoor Led Electronic Control
Integrated Horizontal Handle
Reversible Door Hinges
Led Interior Lighting
Silver Finish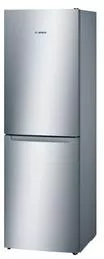 Real Images:
Finally, if you love to see real images of Bosch Fridge & Freezer check out our instagram page @mitosshoppersng. You certainly won't get it wrong.
By all means, shop for varieties of at https://mitosshoppers.com. We offer quality, assurable, affordable, and discounts for the right products. We provide warranty support with Bosch Service C entre when needed. We effectively ensure fast delivery and for most locations, offer payment on delivery option.
Because we care for you we partnered with our installation partners at Afri Artisans to support with installation services when requested. You will certainly be glad to give a positive review when we serve you. To clarify any area of concern, Our support lines are available.